S1E12 - Party Sandwich: A mixed experience
Being yelled at by security, Preparing for Cap, and transitioning to play time
3 years ago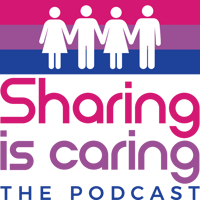 Being yelled at by security, Preparing for Cap, and transitioning to play time
Welcome to Episode 12 of Sharing is Caring the podcast!
We are Kiwi and Cherie, a New Zealand and French couple living in London. This podcast is about our journey into sex positivity and ethical non-monogamy.
In this episode we continue our journey and talk about our second Fever party!
For our catchup, we talk about starting to pack for Cap d'Agde, seeing Mew again, and Cherie considers getting her nipple(s) pierced
Main topic
In our journey continues with a mixed night at Fever. We have a great night, but it is soured by something bad at the end. We talk about how important the events surrounding a party are to add to the experience.
We then discuss what we have learnt from our last trip to Cap d'Agde and what we will do differently this time.
Listener Question
We answer a question from Fab Swingers: "We are new to the lifestyle and have been on two meets so far. Both were a lot of fun, but it took a long time for us to get the courage to move from talking to play time and it didn't really feel natural. Do you have any suggestions on how to make this shift easier and more natural?"
Feel free to get in touch or to submit a listener question for future episodes.
Contact us:
Twitter: @KiwiAndCherie
e-mail: kiwi.and.cherie@gmail.com
FabSwingers: Sharing is Caring Podcast
Music:
Intro/outro: "Once have I" by Boogie Belgique, Licensed under Creative Commons (CC BY-NC-ND 3.0)
Love you all xx
Support Sharing is Caring by donating to their Tip Jar: https://tips.pinecast.com/jar/sharing-is-caring
Find out more at http://sharingiscaringpodcast.com