S1E18 - Drinking too much at a Killing Kittens Hedonism party
Being Submissive, going back to Rios and dealing with rude people
3 years ago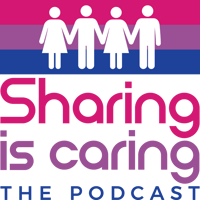 Drinking too much at a Killing Kittens Hedonism party - Being submissive, returnign to Rios and dealing with rude people
Welcome to Episode 18 of Sharing is Caring the podcast!
We are Kiwi and Cherie, a New Zealand and French couple living in London. This podcast is about our journey into sex positivity and ethical non-monogamy.
In this episode we discuss attending a Killing Kittens Hedonism party, where Cherie drank a bit too much. This lead so some interesting situations and some good lessons learned!
In our catchup we talk about a friend coming to stay and her finding her dominant side, and going back to Rios with a group of friends!
We also address the listener question(s): I'm really interested in getting into the lifestyle, but I'm petrified to take the first steps. How soft can a soft swap be? Does it have to involve oral or can you just kiss and caress? Are you always expected to give oral if you have received? Would you suggest trying a threesome first or having sex in front of people in a sexy atmosphere?
Killing Kittens website: www.killingkittens.com
We have arranged a special offer for our listeners. If you sign up for SpicyMatch using the referral code sharingiscaring, you will get three months free premium membership!
Feel free to get in touch or to submit a listener question for future episodes.
SpicyMatch referral for three months free premium membership: https://www.spicymatch.com/?ic=sharingiscaring
Contact us:
Music:
Intro/outro: "Once have I" by Boogie Belgique, Licensed under Creative Commons (CC BY-NC-ND 3.0)
Have an great day and love you all xx
Support Sharing is Caring by donating to their Tip Jar: https://tips.pinecast.com/jar/sharing-is-caring
Find out more at http://sharingiscaringpodcast.com