S1E6 - Lifestyle Fatigue and Taking a Break
Swinger Burnout and why we haven't been as active lately
2 years ago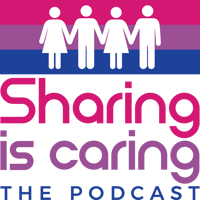 Swinger Burnout and why we haven't been as active lately
Welcome to Episode 6 of Sharing is Caring the podcast!
Note: The sound quality is not as good in this episode, we will fix the problems for episode 7.
We are Kiwi and Cherie, a New Zealand and French couple living in London.
First things first, we have booked our holiday in Cap d'Agde! We will be staying at Le Jardin de Babylone from Saturday 17th to Sunday 25th August 2019. If you are planning to be in Cap d'Agde at the same time, get in touch!
For our main topic we talk about why we haven't been as active over the last several weeks and address Lifestyle Fatigue, or Swinger Burnout. We discuss potential causes, including: - Illness - Pregnancy and childbirth - Too much going on in normal life - Too much going on in lifestyle - Relationship issues
We go on to answer a couple questions:
How do you relationships while having a break?
and
How long we take a break for? / When is it time to return?
We then explore ways to explore and manage fatigue: - Make time for yourselves and your relationship - Use a calendar - Prioritise who you want to spend your time with
Listener Question
We answer a question submitted by someone who read our review of Le Boudoir on reddit:
We've been enjoying lifestyle clubs for a while now, but are a little nervous about Le Boudoir. We've seen a bunch of reviews where couples go and then either get asked to not attend again, or are not invited to attend in the first place. We are both conventionally attractive with a touch of alternative so not too worried on that front. Our main curiosity is just what the crowd was like when you were there? We have been led to understand that fairly heavy people are basically not invited to attend. Our male half is a hair off normal BMI, and female half is around size 14-16 so we are not big, but are not gym fit either. We are losing weight and firming up and have been for a few months now (thanks swinging!), but are trying to figure out if we should get slimmer and fitter first before applying and attending, or if we are already fairly average compared to the crowd there and would be safe to take the plunge. If you could share some thoughts as to what you saw with the average and lower ends of the crowd in terms of appearance, that would be really helpful in assisting us understanding the thresholds! Much appreciated and thanks for the review from a couple of months ago.
Feel free to get in touch or to submit a listener question for future episodes.
Contact us:
Twitter: @KiwiAndCherie
e-mail: kiwi.and.cherie@gmail.com
Music:
Intro/outro: "Once have I" by Boogie Belgique, Licensed under Creative Commons (CC BY-NC-ND 3.0)
Support Sharing is Caring by donating to their Tip Jar: https://tips.pinecast.com/jar/sharing-is-caring
Find out more at http://sharingiscaringpodcast.com