S1E5 - Tinder and a Blanket Fort in New Zealand
Recruiting a new Unicorn from Tinder
2 years ago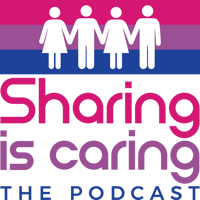 Recruiting a new Unicorn from Tinder
Welcome to Episode 5 of Sharing is Caring the podcast!
We are Kiwi and Cherie, a New Zealand and French couple living in London.
We are finally back from our holiday in New Zealand! After being home for a week, the jetlag is fading but Kiwi's NZ accent is still strong.
Catchup:
Neither of us had ever used Tinder before, so while in Dunedin we decided to download and try out Tinder for the first time with a couples profile. We were lucky enough to meet a beautiful single woman who shared some of the same interests as us... Blanket forts!
Continuing the Journey
For this portion of telling our story we talk about inviting "Tina" and "Josh" over to our flat for a bit of soft fun. Cherie's favourite part was definitely the massage with coconut oil at the end.
Listener Question
We answer a question submitted by a friend of ours:
I'm single and want to get into the swinging scene and want to meet up with couples to play, but I don't want to just be seen as a kind of novel for couples to use without considering my feelings.
Feel free to get in touch or to submit a listener question for future episodes.
Contact us:
Twitter: @KiwiAndCherie
e-mail: kiwi.and.cherie@gmail.com
Music:
Intro/outro: "Once have I" by Boogie Belgique, Licensed under Creative Commons (CC BY-NC-ND 3.0)
Support Sharing is Caring by donating to their Tip Jar: https://tips.pinecast.com/jar/sharing-is-caring
Find out more at http://sharingiscaringpodcast.com