S1E8 - Our first visit to Cap d'Agde
Swinging in the south of France
2 years ago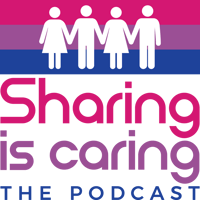 Swinging in the south of France
Welcome to Episode 8 of Sharing is Caring the podcast!
We are Kiwi and Cherie, a New Zealand and French couple living in London. This podcast is about our journey into sex positivity and ethical non-monogamy.
In this episode we jump forward in time and talk about our first fisit to le Cap d'Agde!
Main topic
Since we are getting in the mood for our Cap d'Agde visit in August, we discuss our first visit to Cap d'Agde.
Le Cap d'Agde is literally translated as the cape of Agde and it is one of the largest leisure ports on the French Mediterranean. When most people talk about Cap d'Agde they talk about the naturist village, which is a self contained complex which is fenced off from the rest of the town, you need to pay to get in. In the naturist village there are hotels, shops, supermarkets, restaurants, night clubs, bars, post office, bank and ATMs, launderettes, hairdressers and other facilities. Looking on the official website, in all there are about 180 businesses in the village and the population grows up to 50,000 over peak season.
Listener Question
We answer a question about how to decide which swingers club to choose.
Feel free to get in touch or to submit a listener question for future episodes.
Contact us:
Twitter: @KiwiAndCherie
e-mail: kiwi.and.cherie@gmail.com
Music:
Intro/outro: "Once have I" by Boogie Belgique, Licensed under Creative Commons (CC BY-NC-ND 3.0)
Support Sharing is Caring by donating to their Tip Jar: https://tips.pinecast.com/jar/sharing-is-caring
Find out more at http://sharingiscaringpodcast.com