S1E2 - Swingers in the Wild
Meeting People Unexpectedly
2 years ago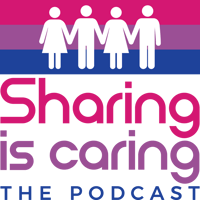 Meeting People Unexpectedly
Welcome to Episode 2 of Sharing is Caring the podcast!
We are Kiwi and Cherie, a New Zealand and French couple living in London.
In this episode we are trying out a new mic with much better results, let us know what you think.
We discuss our resent experience of being propositioned at an immersive dinner in the Waterloo Vaults, and a few other sexy experiences of meeting people in the wild.
We also discuss common swinger "symbols", some more reliable than others (hint, garden gnome does not always equal swinger).
For our listener question we have text a friend and answer: Are all women in the lifestyle bi?
Correction: While answering the listener question we talk about the Kinsey scale; the scale is in fact 0-6, not 0-7 as we say in the podcast. Kinsey scale: https://en.wikipedia.org/wiki/Kinsey_scale
Feel free to get in touch, and to submit a listener question for future episodes.
Contact us:
Twitter: @KiwiAndCherie
e-mail: kiwi.and.cherie@gmail.com
Music:
Intro/outro: "Once have I" by Boogie Belgique, Licensed under Creative Commons (CC BY-NC-ND 3.0)
Support Sharing is Caring by donating to their Tip Jar: https://tips.pinecast.com/jar/sharing-is-caring
Find out more at http://sharingiscaringpodcast.com