S1E14 - Cap d'Agde Diaries 2019 - Part 2
We recount the final 3 days of our time in Cap d'Agde
3 years ago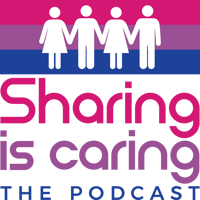 The final three days of our trip to Cap d'Agde
Welcome to Episode 14 of Sharing is Caring the podcast!
We are Kiwi and Cherie, a New Zealand and French couple living in London. This podcast is about our journey into sex positivity and ethical non-monogamy.
This episode is a part 2 of Cap d'Agde Diaries 2019, if you haven't listened to part 1, we recommend going back and listening to Episode 13 first.
We just got back from our trip to Cap d'Agde for just over a week. Every day we recorded a few minutes about what we had been up to the previous day, so the thoughts were fresh in our mind. Unfortunately, we didn't get to record during the final three days, but we made notes and recorded once we got back to London.
We also recorded a small section where we reflect on what went well, and what we would do differently next time.
We did also manage to arrange a special offer for our listeners. If you sign up for SpicyMatch using the referral code sharingiscaring, you will get three months free premium membership!
We enjoyed Cap d'Agde so much that we have booked to go back again at the end of this week with a friend! If you will be there between Friday 6th September and Monday 9th September, get in touch!
Feel free to get in touch or to submit a listener question for future episodes.
SpicyMatch referral for three months free premium membership: https://www.spicymatch.com/?ic=sharingiscaring
Contact us:
Music:
Intro/outro: "Once have I" by Boogie Belgique, Licensed under Creative Commons (CC BY-NC-ND 3.0)
Love you all xx
Support Sharing is Caring by donating to their Tip Jar: https://tips.pinecast.com/jar/sharing-is-caring
Find out more at http://sharingiscaringpodcast.com