S1E19 - 2019 - The year in review
With bonus French swinging vocabulary
a year ago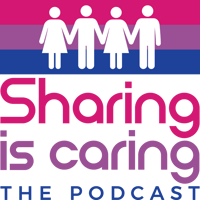 In this episode we recap what we did in 2019 and discuss French swinging vocabulary
Welcome to Episode 19 of Sharing is Caring the podcast!
We are Kiwi and Cherie, a New Zealand and French couple living in London. This podcast is about our journey into sex positivity and ethical non-monogamy.
In this bonus episode we look back at our year in review and answer the following 10 reflection questions about out year swinging: 1. What will you remember 2019 for? 2. What worked great this year? 3. What are you proud of? 4. What was your biggest challenge? 5. What did you learn about yourself? 6. Which word describes your last year the best? 7. Who needs to be acknowledged? 8. What's something you would have like to have done in 2019 but didn't? 9. Other than time and money, what do you want more of in New year? 10. Stepping into the New year, what is calling you and seducing you? (What will you do about it?)
Cherie also discussed some french swinging Vocabulary: - Swinging: Echangisme / libertinage - Soft swap: Melangisme - Having sex next to each other: Côte-à-côtisme - Threesomes: Triolisme /Plan a 3 - Sex clubs: Club échangiste - club libertin - Polyamory: Polyamour - Penetration: Pénétration - Voyeurism: Voyeurisme - Exhibitionism: Exhibitionisme - Orgy: Orgie / partouze - BDSM: SM - Porn: Porno / film X - Vibrator: Vibromasseur - Dildo: gode - Sex toys: Sex toys - Lube: lubrifiant - Strap-on: Gode-ceinture - Squirting: femme fontaine
We have arranged a special offer for our listeners. If you sign up for SpicyMatch using the referral code sharingiscaring, you will get three months free premium membership!
Feel free to get in touch or to submit a listener question for future episodes.
SpicyMatch referral for three months free premium membership: https://www.spicymatch.com/?ic=sharingiscaring
Contact us:
Music:
Intro/outro: "Once have I" by Boogie Belgique, Licensed under Creative Commons (CC BY-NC-ND 3.0)
Happy new year you sexy people!
Support Sharing is Caring by donating to their Tip Jar: https://tips.pinecast.com/jar/sharing-is-caring
Find out more at http://sharingiscaringpodcast.com