S1E7 - Getting our Kink on
Dabbling into BDSM and Kink
2 years ago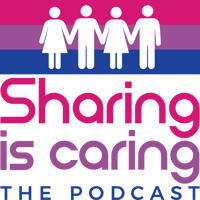 Dabbling into BDSM and Kink
Welcome to Episode 7 of Sharing is Caring the podcast!
We are Kiwi and Cherie, a New Zealand and French couple living in London. This podcast is about our journey into sex positivity and ethical non-monogamy.
In this episode we talk about our recent experience with Cherie taking on a dominant role and how much we enjoyed the (new for us) experience.
Main topic
For the main topic, we start to explore Kink and BDSM. Disclaimer: We are new to Kink and BDSM, so probably make mistakes! But that's why this is our journey.
Since we are new to kink, we first define several terms using BDSM Wiki definitions: http://www.bdsmwiki.info We then discuss our limited experience and what we have tried, followed by discussing a list of the top 10 most common kinks in the UK (as per a LoveHoney survery from 2017). Finally, we compare our results from the BDSM test - https://bdsmtest.org
Listener Question
We answer a question about grooming in the lifestyle and how pubic hair is received.
Feel free to get in touch or to submit a listener question for future episodes.
Contact us:
Twitter: @KiwiAndCherie
e-mail: kiwi.and.cherie@gmail.com
Music:
Intro/outro: "Once have I" by Boogie Belgique, Licensed under Creative Commons (CC BY-NC-ND 3.0)
Support Sharing is Caring by donating to their Tip Jar: https://tips.pinecast.com/jar/sharing-is-caring
Find out more at http://sharingiscaringpodcast.com