S1E11 - From Friend to Unicorn
An interview with our first unicorn where we discuss the journey of transitioning from friends, to pants-off friends
2 years ago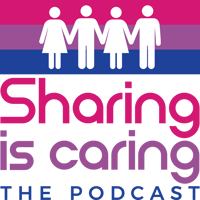 An interview with our first unicorn where we discuss the journey of transitioning from friends, to pants-off friends
Welcome to Episode 11 of Sharing is Caring the podcast!
We are Kiwi and Cherie, a New Zealand and French couple living in London. This podcast is about our journey into sex positivity and ethical non-monogamy.
After covering a heavy, serious topic last time, this episode is a lot more light hearted and fun! We have an interview with a good friend. We have all had a few drinks and are having some fun, so it is a bit chaotic (and a nightmare to edit!), but there is some good stuff in this episode, so it's worth a listen.
For our catchup, Cherie talks about a vanilla event which she recently attended where the conversation turned to sex parties. We then recount Mew's recent sexy sleep over.
Main topic
Our main topic is an interview with Cyan, who was originally a school friend of Kiwi. Cyan also moved to Europe, and eventually London.
In the interview with Cyan, we discuss our first experience converting from pant-on to pants-off friends. This is the first time we have all discussed it in depth together.
Listener Question
We answer a question from Fab Swingers: "What is a Unicorn?"
Feel free to get in touch or to submit a listener question for future episodes.
Contact us:
Twitter: @KiwiAndCherie
e-mail: kiwi.and.cherie@gmail.com
FabSwingers: Sharing is Caring Podcast
Music:
Intro/outro: "Once have I" by Boogie Belgique, Licensed under Creative Commons (CC BY-NC-ND 3.0)
Love you all xx
Support Sharing is Caring by donating to their Tip Jar: https://tips.pinecast.com/jar/sharing-is-caring
Find out more at http://sharingiscaringpodcast.com