S1E16 - Swinging Without Swinging - What happens when you can't play?
Our experience swinging when we couldn't play.
2 years ago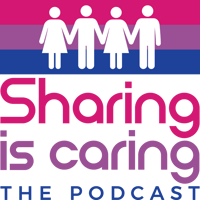 Our experience swinging when we couldn't play.
Welcome to Episode 16 of Sharing is Caring the podcast!
We are Kiwi and Cherie, a New Zealand and French couple living in London. This podcast is about our journey into sex positivity and ethical non-monogamy.
Life has been very busy lately and we haven't had the time to record! Rather than waiting longer, we decided to record and release a shorter episode, we hope you enjoy it!
In this episode we recount our experience from a year ago when, due to a medical surprise, Cherie couldn't play. We discuss how we handled our existing invites and what we decided to do in the end.
We have arranged a special offer for our listeners. If you sign up for SpicyMatch using the referral code sharingiscaring, you will get three months free premium membership!
Feel free to get in touch or to submit a listener question for future episodes.
SpicyMatch referral for three months free premium membership: https://www.spicymatch.com/?ic=sharingiscaring
Contact us:
Music:
Intro/outro: "Once have I" by Boogie Belgique, Licensed under Creative Commons (CC BY-NC-ND 3.0)
Have an awesome day and keep being awesome xx
Support Sharing is Caring by donating to their Tip Jar: https://tips.pinecast.com/jar/sharing-is-caring
Find out more at http://sharingiscaringpodcast.com