S1E9 - Round Two in Cap d'Agde
Kiwi's First Bisexual Experience
2 years ago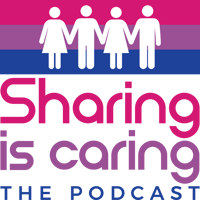 We return to Cap d'Agde and Kiwi's has his first Bisexual Experience
Welcome to Episode 9 of Sharing is Caring the podcast!
We are Kiwi and Cherie, a New Zealand and French couple living in London. This podcast is about our journey into sex positivity and ethical non-monogamy.
Before recording this episode we had been up all night (after a date went very well). As a result of being so tired, our accents are strong and our our stories are tangential!
In this episode we're going to talk about our second visit to Cap d'Agde. So If you haven't listened to part one which was our first visit, it's worth listening to that first. It was episode 8, the episode before this. Our first visit was quite tame. We were only there for two nights and one full day, so by the time we started to get into the mood it was time to leave. This time we came back prepared…
Main topic
For our main topic we recount our sexy adventures during our second visit to Cap d'Agde, staying at Le Jardin d'Eden. There was little sleep and much play... but you'll have to listen to find out more!
Listener Question
This time we answer a listener feedback e-mail about why we aren't full swap.
Feel free to get in touch or to submit a listener question for future episodes.
Contact us:
Twitter: @KiwiAndCherie
e-mail: kiwi.and.cherie@gmail.com
Music:
Intro/outro: "Once have I" by Boogie Belgique, Licensed under Creative Commons (CC BY-NC-ND 3.0)
Support Sharing is Caring by donating to their Tip Jar: https://tips.pinecast.com/jar/sharing-is-caring
Find out more at http://sharingiscaringpodcast.com