S1E4 - Let's go back to Rios
Visiting a nudist beach and returning to Rios
2 years ago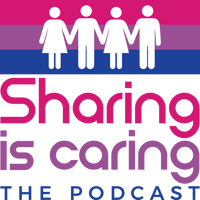 Visiting a nudist beach and returning to Rios
Welcome to Episode 4 of Sharing is Caring the podcast!
We are Kiwi and Cherie, a New Zealand and French couple living in London.
This episode was pre-recorded because we are going on holiday to New Zealand for a few weeks! I'm actually typing up these show notes right before we run out the door to the airport.
Catchup:
We talk about the anti-Valentine's day social/meet and greet we went to last Thursday at which we met a single man who we have been messaging.
Continuing the Journey
For this portion of telling our story we talk about two parts of our journey. First, visiting a nudist (several times) beach near Komiža in Croatia. Secondly, we recount our second visit to Rios at which we met and played with another couple.
Listener Question
We answer a question submitted by an anonymous listener:
Recently my partner and I have been talking about opening our relationship. I'm interested in getting into the lifestyle and my partner is trying to get there, but they want to go gently. What's the best way to go about setting up something very gentle or introductory for a first experience?
Feel free to get in touch, and to submit a listener question for future episodes.
Contact us:
Twitter: @KiwiAndCherie
e-mail: kiwi.and.cherie@gmail.com
Music:
Intro/outro: "Once have I" by Boogie Belgique, Licensed under Creative Commons (CC BY-NC-ND 3.0)
Support Sharing is Caring by donating to the tip jar: https://tips.pinecast.com/jar/sharing-is-caring
Find out more on the Sharing is Caring website.
Support Sharing is Caring by donating to their Tip Jar: https://tips.pinecast.com/jar/sharing-is-caring
Find out more at http://sharingiscaringpodcast.com