S1E10 - Our take on Bisexuality... in a Nutshell
Discussing what bisexuality means to us and how it has impacted our lives
2 years ago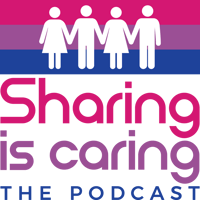 Discussing what bisexuality means to us and how it has impacted our lives
Welcome to Episode 10 of Sharing is Caring the podcast!
We are Kiwi and Cherie, a New Zealand and French couple living in London. This podcast is about our journey into sex positivity and ethical non-monogamy.
It's a heavier topic, so this show is slightly shorter.
This is an episode I've been really looking forward to, and worried about. It's such a large complex topic and I want us to get it right, but still be entertaining! So to preface this episode, just a reminder that we are by no means experts and we're on a journey of figuring all this out.
For this podcast we'll talk a bit about what bisexuality is, we'll cover the kinsey scale, and briefly talk about labels. Then we'll discuss how we experience the lifestyle from the perspective of being a bi couple, and finally how being bi influences our every-day lives
We are recording this on the final of pride month and we're going to release it on the week leading up to London Pride, which is next Saturday 6th July! We'll be there to party and we'll bring along a few stickers.
In our catchup we talk about our recent trip to the coast to visit the Bed Hoppers! While visiting, we did a short session recording for their up-coming podast, so check out their next episode if you want to hear!
Main topic
In our main topic we briefly cover: - The Kinsey Scale - A modified scale to account for various types of attraction - Labels - Bisexuality vs Pansexuality - Being bi in the lifestyle - How being bi impacts our every-day lives - Some issues faced by the bi community - A few famous people throughout history who were/may have been bi
Listener Question
We revive an old listener question from episode 3/4 when we first mentioned that we are bi and answer: "How long have you known that you were bisexual and when do you first remember being attracted to men/women?"
Feel free to get in touch or to submit a listener question for future episodes.
Contact us:
Twitter: @KiwiAndCherie
e-mail: kiwi.and.cherie@gmail.com
FabSwingers: Sharing is Caring Podcast
Music:
Intro/outro: "Once have I" by Boogie Belgique, Licensed under Creative Commons (CC BY-NC-ND 3.0)
Love you all xx
Support Sharing is Caring by donating to their Tip Jar: https://tips.pinecast.com/jar/sharing-is-caring
Find out more at http://sharingiscaringpodcast.com