S1E22 - Swinging From Home
Keeping up with the lifestyle while on lockdown
2 years ago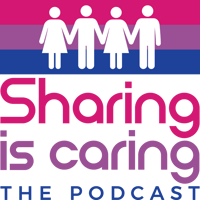 What can you do to keep up your lifestyle activities while on lockdown and self-isolating? We explore what we've been doing to scratch our itch.
Welcome to Episode 22 of Sharing is Caring the podcast!
We are Kiwi and Cherie, a New Zealand and French couple living in London. This podcast is about our journey into sex positivity and ethical non-monogamy.
---
In this episode we catchup on some of our meets dates from before the lockdown, as well discussing a sensual massage course which we attended via Zoom.
We also discuss the various things we have done to scratch our exhibitionist itch and stay in touch with our friends while on lockdown. These include:
Video calls. Various quizzes and flirting with sexy friends
Chat groups. We have found that people are focusing more on building connections rather than rushing to arrange a meet.
Camera shows. We have done some camera shows on Chaturbate, it's a fun way to be an exhibitionist while making a few dollars on the side!
Videos on Pornhub. We've made and uploaded a few videos to pornhub and really enjoyed watching the number of views climb.
Posting photos online. We really enjoy posting pictures to reddit, we've had some great conversations with people resulting from it and it's a fun way to feel sexy when you can't leave the house.
Virtual parties. Since all parties have had to be cancelled, some organisors are still hosting virtual parties so you can still keep up with your friends.
We answer the listener question: In your podcast you've said a few times that you don't meet people online much and that you prefer to meet people at socials. Why is that? Have you had bad experiences which have put you off?
Feel free to get in touch or to submit a listener question for future episodes.
---
Chaturbate referral link: https://chaturbate.com/in/?track=default&tour=g4pe&campaign=FGGYB
We have arranged a special offer for our listeners. If you sign up for SpicyMatch using the referral code sharingiscaring, you will get three months free premium membership!
SpicyMatch referral for three months free premium membership: https://www.spicymatch.com/?ic=sharingiscaring
Contact us:
Music:
Intro/outro: "Once have I" by Boogie Belgique, Licensed under Creative Commons (CC BY-NC-ND 3.0)
Love you all x
Support Sharing is Caring by donating to their Tip Jar: https://tips.pinecast.com/jar/sharing-is-caring
Find out more at http://sharingiscaringpodcast.com